Your clean home is our business.
In the Western world, comparatively few households can afford live-in domestic help employees, in lieu of live-in staff, a maid service is utilized as a periodic cleaner. In developing nations, differences found within income and social status between different socio-economic classes, lesser educated women, with less opportunity are believed to provide a labor source for domestic work.Socio-economic opportunities, not being confined to any specific global location, may allow cleaning services to perform 'cleaning' as their source of business as a service.There are thousands of residential cleaning businesses throughout the United States, United Kingdom and Canada. Historically and traditionally, cleaning was considered a woman's role, but as more and more women have joined the workforce, the time pressure on families with children has grown, so paying a service for cleaning makes sense to persons who can afford it. Additionally, many modern homeowners lack the proper knowledge to use the safest and most effective cleaning products.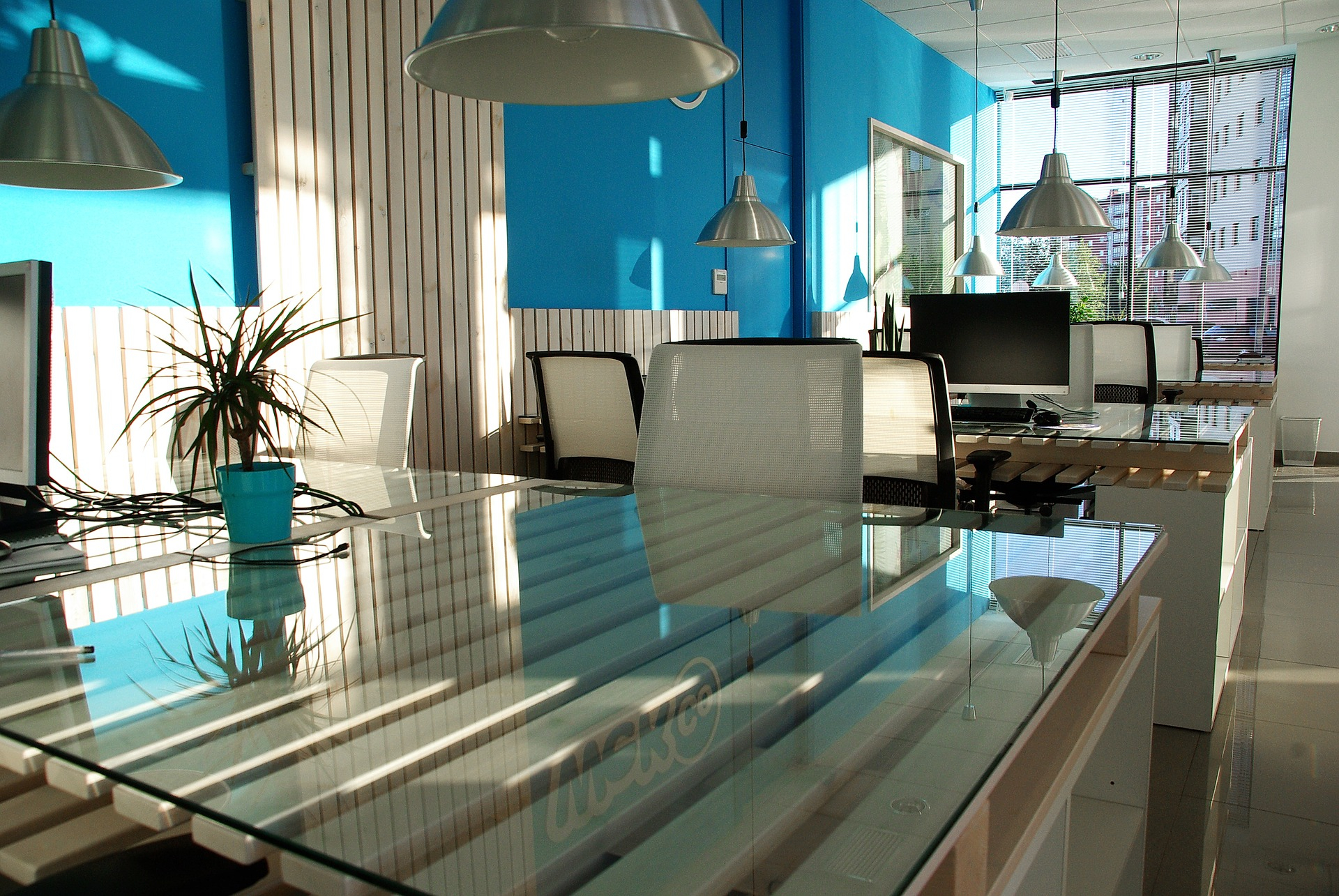 Hard Floor Caring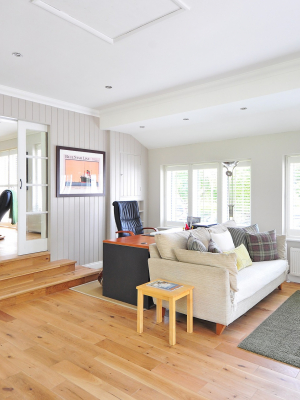 Floor Cleaning
The treatment needed for different types of floors is very different.Slipping is a common safety hazard for cleaning methods that involve water or other liquids, especially if the floor is left wet.Sawdust is used on some floors to absorb any liquids that fall rather than trying to prevent them being spilt. The sawdust is swept up and replaced each day. This was common in the past in pubs and is still used in some butchers and fishmongers.
It used to be common to use tea leaves to collect dirt from carpets and remove odours.[5] Nowadays it is still quite common to use diatomaceous earth, or in fact any cat litter type material, to remove infestations from floors.There are also a wide variety of floor cleaning machines available today such as floor buffers, automatic floor scrubbers and sweepers, and carpet extractors that can deep clean almost any type of hard floor or carpeted flooring surface in much less time than it would take using a traditional cleaning method.
Window Cleaning Services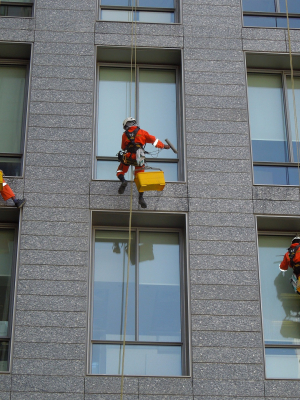 Window Cleaning
Window cleaning, or window washing, is the exterior cleaning of architectural glass used for structural, lighting, or decorative purposes. It can be done manually, using a variety of tools for cleaning and access. Technology is also employed and increasingly, automation.
Commercial work is contracted variously from in-person transactions for cash or barter, to formal tender processes. Regulations, licensing, technique, equipment and compensation vary nationally and regionally
Residential Cleaning Services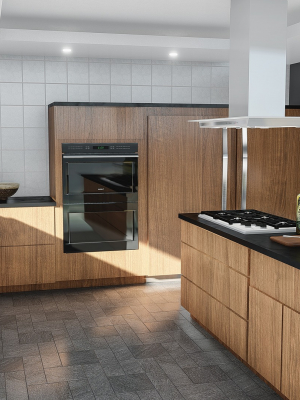 Residential Cleaning
Housekeeping refers to the management of duties and chores involved in the running of a household, such as cleaning, cooking, home maintenance, shopping, laundry and bill pay. These tasks may be performed by any of the household members, or by other persons hired to perform these tasks. The term is also used to refer to the money allocated for such use.[1] By extension, an office or organization, as well as the maintenance of computer storage systems.
A housekeeper is a person employed to manage a household,and the domestic staff. According to the Victorian Era Mrs Beeton's Book of Household Management, the housekeeper is second in command in the house and "except in large establishments, where there is a house steward, the housekeeper must consider his/herself as the immediate representative of her mistress
Commercial Cleaning Services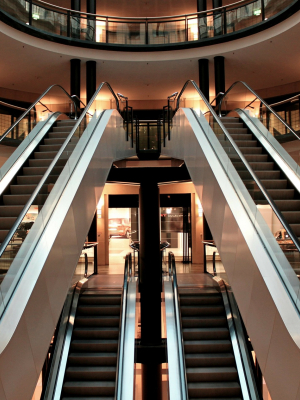 Commercial Cleaning
Commercial cleaning is a broad term predominantly used by cleaning companies who earn an income by being contracted by individuals, businesses, or corporations to carry out cleaning jobs in a variety of premises. Cleaning companies can be found in virtually every town and city in the world, with a higher concentration in affluent regions. Typically these companies market their services via a professional sales force, advertising, word of mouth, or websites.
Products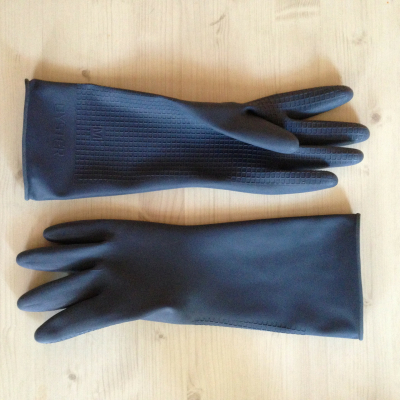 Cleaning Glove
Rs. 500.00
A rubber glove is a glove made out of rubber. Rubber gloves can be unsupported or supported. Its primary purpose is protection of the hands while performing tasks involving chemicals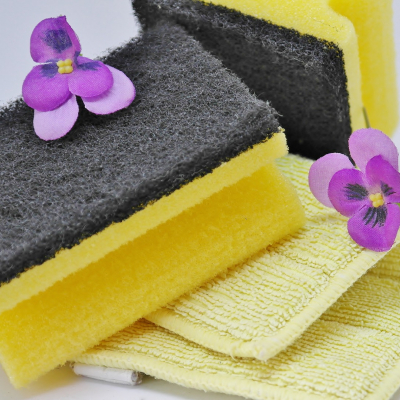 Sponges
Rs. 600.00
A sponge is a tool or cleaning aid made of soft, porous material. Typically used for cleaning impervious surfaces, sponges are especially good at absorbing water and water-based solutions.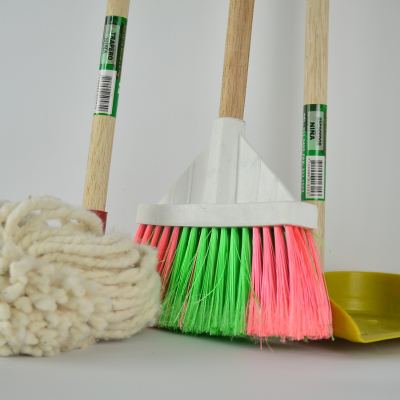 Mops
Rs. 450.00
A dustpan (or uncommonly referred to as a lifter), the small version of which is also known as a "half brush and shovel", is a cleaning utensil. The dustpan alone is commonly used in combination with a broom or long brush. The small dustpan may appear to be a type of flat scoop. Though often hand-held for home use, industrial and commercial enterprises use a hinged variety on the end of a stick to allow the user to stand instead of stoop while using it. This latter improved dustpan design was patented by African-American inventor Lloyd Ray on August 9, 1897, while the first patented dustpan was by T.E. McNeill nearly 40 years prior. Handheld dustpans may be used with either a full-size broom or with a smaller whisk broom or a brush sometimes called a duster. This second combination may be sold as one unit. A variant on the dustpan is the silent butler, a handheld, lidded dustpan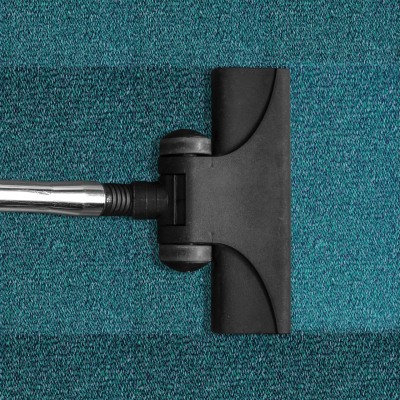 Vacuum Cleaner
Rs. 13,000.00
A vacuum cleaner, also known as a sweeper or hoover, is a device that uses an air pump (a centrifugal fan in all but some of the very oldest models), to create a partial vacuum to suck up dust and dirt, usually from floors, and from other surfaces such as upholstery and draperies.
Our Clients Say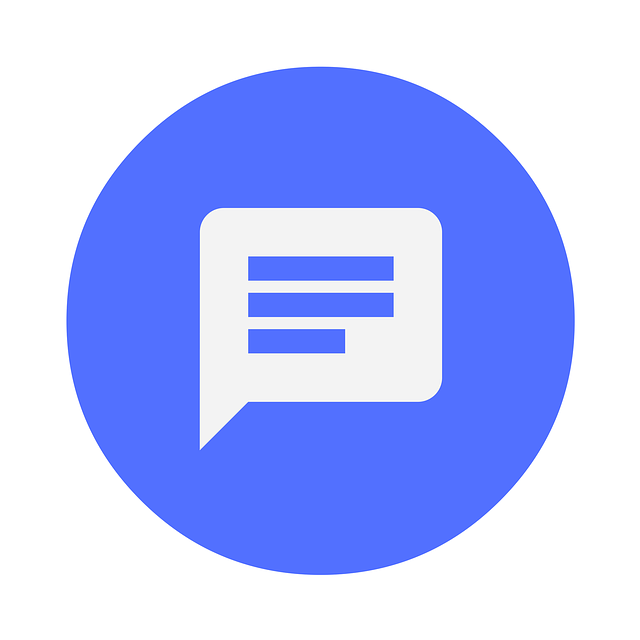 Good service for an affordable price. I highly recommend this company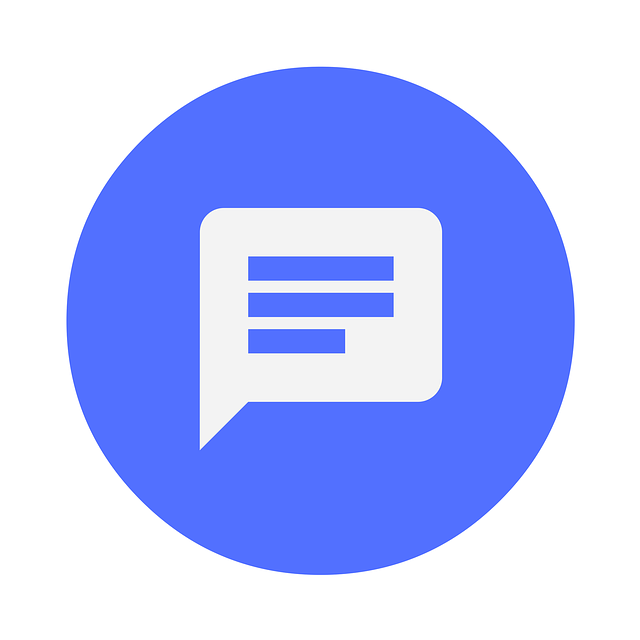 Friendly staff. Provided the service on time as they promised